Environmental Policy Statement
We are committed to reducing the impact of our products to the environment through design and process. The re-use of recycled materials reduces the demand for raw materials and helps prevent environmental pollution. Packaging and used products should be sorted for environmentally friendly recycling. We comply with all applicable laws and regulations and strive to minimise waste generation, re-use and recycle materials where possible.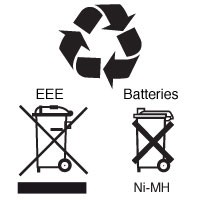 Packaging
Packaging should be sorted for environmental-friendly recycling. Our packaging is marked with a symbol which denotes that it can be recycled. For more details of the symbols used and where packaging can be recycled please click here.
France IDU Pack FR042638_01ZPVV
Poland Register nr. Pack: 000574997

Non Electrical and Electronic Equipment (EEE)
Non EEE products, including accessories at the end of their life should be sorted for environmental- friendly recycling. For more details where products can be recycled please click here.

Waste Electrical and Electronic Equipment (WEEE)
UK Producer No. WEE/DC0043SY/PRO
Eire PRL Registration No. IE 02142WB
Germany WEEE-Reg.-Nr. DE 55202932
France ADEME WEEE No. A4801
Poland Register nr. WEEE: 000006548
Italian WEEE Reg No. IT 22090000014197
Spain WEEE No. 2504
Swedish WEEE CRN: 1338493

The Waste Electrical or Electronic Equipment (WEEE) Directive requires countries to maximise separate collection and environmentally friendly processing of these items. WEEE product is marked with the crossed out wheelie bin symbol shown. This requires separate collection. The product must not be disposed of with normal household waste. Many electrical items can be repaired or recycled, saving natural resources and the environment. If you do not recycle electrical equipment will end up in landfill where hazardous substances will leak out and cause soil and water contamination – harming wildlife and also human health.
Household User
Local regulations may provide for separate collection of electrical products from the household, at municipal waste sites or by retailer when you purchase a new product. 
Please call Trend Customer Services on 00 44 1923 249911 for advice as to how to dispose of unwanted Trend electrical product in an environmentally safe way or click here.

Business User
Trend Service Agents (TSA´s) can be used as collection points on our behalf for unwanted Trend electrical Products. For the location of your nearest Trend Service Agent, see our Stockist Locator or alternatively for further details please call Trend Customer Services on 00 44 1923 249911 or email
Distributors
In the UK, distributors including retailers must provide a system which allows all customers buying new electrical equipment the opportunity to recycle their old items free of charge. Trend as a responsible web sale distance seller, have met the requirements placed on us by financially supporting the national network of WEEE recycling centres established by local authorities. This is achieved through membership of the national Distributor Take-back scheme (DTS).
Batteries
France ADEME Battery No. FR042638_0638FW
Poland Register nr. for Batt: 000574997
Italian Batteries Reg. No. IT 22090P00008100
Spain Battery No. 8134
Swedish Bat CRN: 1338493

Batteries are marked with a symbol, which denotes battery type. Our website shows an example of Trend use Nickel-Metal Hydride (Ni-MH) and Lithium Metal batteries. When a battery pack needs replacing we recommend the following:
Discharge the energy from the batteries by running down the batteries completely, then remove from the tool. Ni-MH and Lithium Metal cells are recyclable; so do not throw them away with your household waste. They may end up in a incinerator or landfill, which must be avoided. Instead take batteries to a Trend Service Agent, your local distributor or local recycling station. If necessary, contact your local municipality for disposal information. The collected batteries will be disposed of properly and/or used for recycling purposes. Trend Producer Number BPRN00037.
Please contact us for additional information and assistance
(UK/Europe):
Trend Tool Technology Ltd
Odhams Trading Estate
St Albans Road
Watford
Hertfordshire
WD24 7TR
United Kingdom

Tel. No. 00 44 1923 249911
Fax No. 00 44 1923 236879


Please contact us for additional information and assistance
(US):
Trend Routing Technology Inc

7351 West Friendly Avenue

Suite A

Greensboro,
NC 27410
USA



Toll free 
877 918-7363
Main line (336) 292-5051
Fax line (336) 292-5061


---
Modern Slavery Act Statement and Policy
Here at Trend we have a zero tolerance approach to modern slavery in our business or our supply chains.
Please click below to download our full policy document