A BrainFizz Overview on Trend Power Tools and Accessories
Richard Morley or BrainFizz, depending on how you know him, is a tradesperson focusing on window restoration and also a social media personality. Richard has been in the industry since leaving school and has been using Trend products since 2006. He has been sharing his tips and his woodworking projects with his social media audience for the last 8 years and amassed over 30,000 followers across all platforms. Richard is well respected in the digital space for the woodworking sector as well as in his trade.
Richard exclusively works on the restoration of historic vintage windows and doors. This involves taking old and neglected windows, in particular sash and casement windows, and restoring them to a new condition whilst maintaining the history and heritage of the house. Watch him take you through his favourite features of a few Trend power tools & accessories and how these tools are particularly handy for window and door restoration.
You will learn about:
(Navigate to specific review sections by clicking the text below).
Richard also discusses his carpentry journey, passion, and process for historic window restoration. He also dives into topics such as Why he uses Trend? His First Trend Tool? His favourite Tool? Youtube or Instagram?
Toolstation has gifted Richard all the Trend Tools used in the video above, and the remaining videos below.
Find out more about BrainFizz
T18S Cordless 1/4" Router
A class-leading 60mm 18V Trend cordless router with a brushless motor. The T18S router has Trend base Configuration, a standard feature on most Trend routers, allows guide bushes to be fitted which enables your router to accept all homemade routing jigs for bespoke applications. The T18S Router has a 60mm Plunge Depth, which comes in handy when using thicker routing jigs. With the use of the Fine-Height Adjustment feature, you can make accurate and precise cuts every time.
The router has excellent Cutter Capacity and a strong Collet System, which gives the capabilities of doing small, intricate cuts as well as performing large profiling work. The Interchangeable Plunge and Trim Bases have been designed for easy adjustment to improve the versatility and portability of this machine.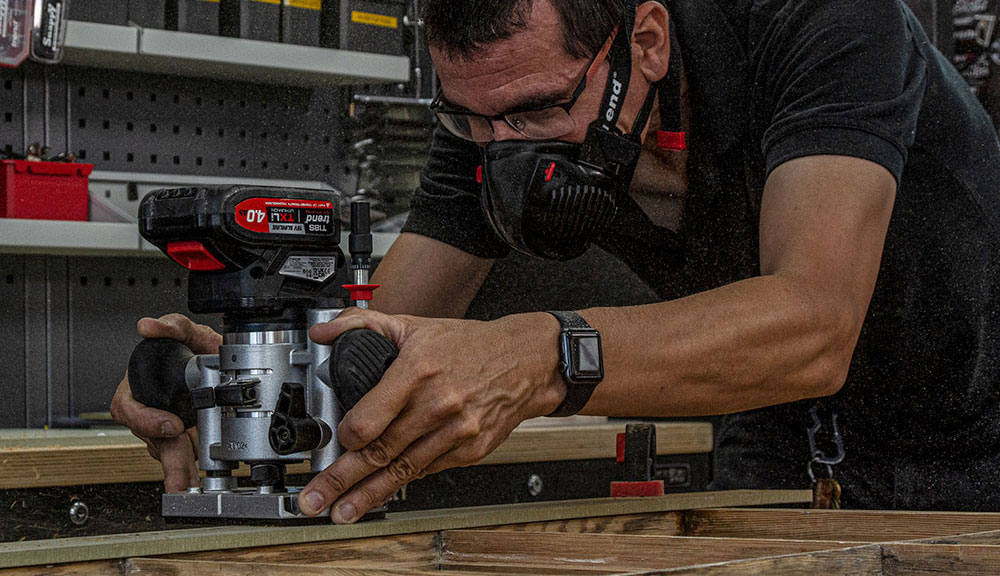 Some other features:
Trend High-Performance Brushless Motor - Longer motor life, more power, more run time.
Variable Speed Motor - Controlled cutting on materials including hard and soft woods, sheet materials, laminates and plastics.
3 Position Rotating Turret - Allows cutter depths to be quickly and accurately set and altered, ideal when making multiple passes.
Richard's favourite tool in the range, the T18S Mitre Saw! Just a few applications and tasks he uses it for:
Cutting blanks
Cutting repair splices for windows
New components
Half laps
Mitres
Bevels
Tennons
The Mitre Saw is Lightweight, Compact and Portable, only 9.56Kg and ideal for multiple woodworking trade applications in the workshop and the job site. The portability of this machine allows it to be used up on scaffolding and in tight & confined areas. For Richard's window repair work, the machine has enough capacity to cope with large door frames and gate posts but is small enough to do more intricate cuts for half laps and joinery grade applications for window repair cutting. A very compact and adaptable, and packs a lot of punch for a machine in this weight category.
Some other features:
· Impressive Capacities – Cuts up to 210mm wide and 51mm deep stock.
· Front Mounted Laser – Allows accurate, quick alignment for faster cutting.
· Trenching Function – Quick set trench stop for grooves and slots.
· -47 to +47 Degrees Mitre Cut Capacity – Allows overcutting of mitres for out-of-square corners.

The T18S Circular Saw is built to last! Constructed with an Aluminium Base Plate for accurate trimming with guides and straight edges and Aluminium Upper and Lower Guards for heavy-duty trade use and increased safety. Setting the blade height can be done with ease, and can be locked quickly with a built-in secure clamp. A Laser Guide Function can be used for easy alignment to layout lines when cutting long lengths, to create clean and accurate finishes every time.
One of Richard's favourite features is the Hanging Hook, a fold-out metal hook to allow the saw to hook over rafters and joists to keep hands free for positioning work. This is excellent for working at height or for keeping your workspace organised.
Some other features:
· 50-degree Maximum Bevel Cut – 5 Degrees overcut for 'out of square' applications.
· 165mm Diameter Blade – Popular blade size covers a wide range of tooth styles and pitches.
· Multi Trade Use – Ideal for first fix carpentry on studs and joists, second fix work on sheet materials, worktops and panels, trimming doors and more.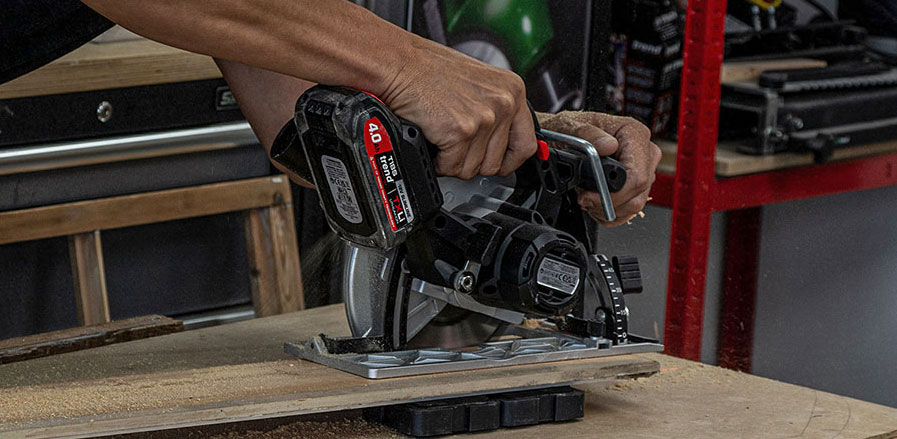 A range of Tungsten Carbide or Polycrystalline Diamond Tipped Blades for a variety of materials such as Timber, Aluminium, Non-Ferous Plastic, Compact Laminate, Fibre Cement and much more. Trend Sawblades are widely accessible across the UK and Ireland, find them in selected Toolstation Stores nationwide or on our website.
Why Richard likes the range:
· They last a long time, there is longevity in the blades, generate money for his business but doesn't cost the earth - a very economical product overall.
· Well stocked across the UK.
· The range has blades that fit all his tools.
· Has blades which can cut timber and finner man-made boards, MDF or ply, as well as plastics like acrylic.
T18S Detail Sander
The T18S Cordless Detail Sander is great when working outside, at height, inaccessible areas or if being tethered to a wall or dust extractor is not an option. It has a 1.6mm Fine Orbit, which is ideal for fine finishing work, cutting back between coats and lighter sanding applications. The Detail Base allows larger areas to be sanded with the detail tip perfect for accessing tighter spots such as corners.
Some other features:
11000 Orbits Per Minute – For controlled sanding on a range of materials.
Dust Extraction Port – For maximum dust capture.
Dust Sealed Switch – Prevents dust ingress into the switch to ensure consistent performance.
151mm x 102mm & 11 Hole Extraction Base – Fits the full range of Trend Detail Abrasives for the complete sanding solution.
Dust masks are essential when working with hazardous materials such as lead paint, rotten timber and dust. The Air Stealth protects the user against airborne particles, non-oil aerosols, mist, welds and fumes. This new generation P3(R) Half Mask, with a Low Profile Ergonomic Design, creates a comfortable secure seal around the face for maximum protection and extended wear times.
The Air Stealth comes with twin pleated filters for increased performance and efficiency. Different filters are also available when working with different materials. The filters are removable and replaceable, and the mask is washable, which makes this safety mask very easy to maintain.
Some other features:
Twin HEPAC* Pleat Encapsulated Design Filter - Provides up to 99.99% filtration of airborne particles and aerosols at 0.3 microns and above.
Constructed From Odour-Free, Non-Allergenic Materials - Including soft latex and silicone-free face seals.
Perfect for - Routing, Woodworking, DIY, Construction, Metalwork, Agriculture, Silica Dust, Glass Fibre and Stonemasonry.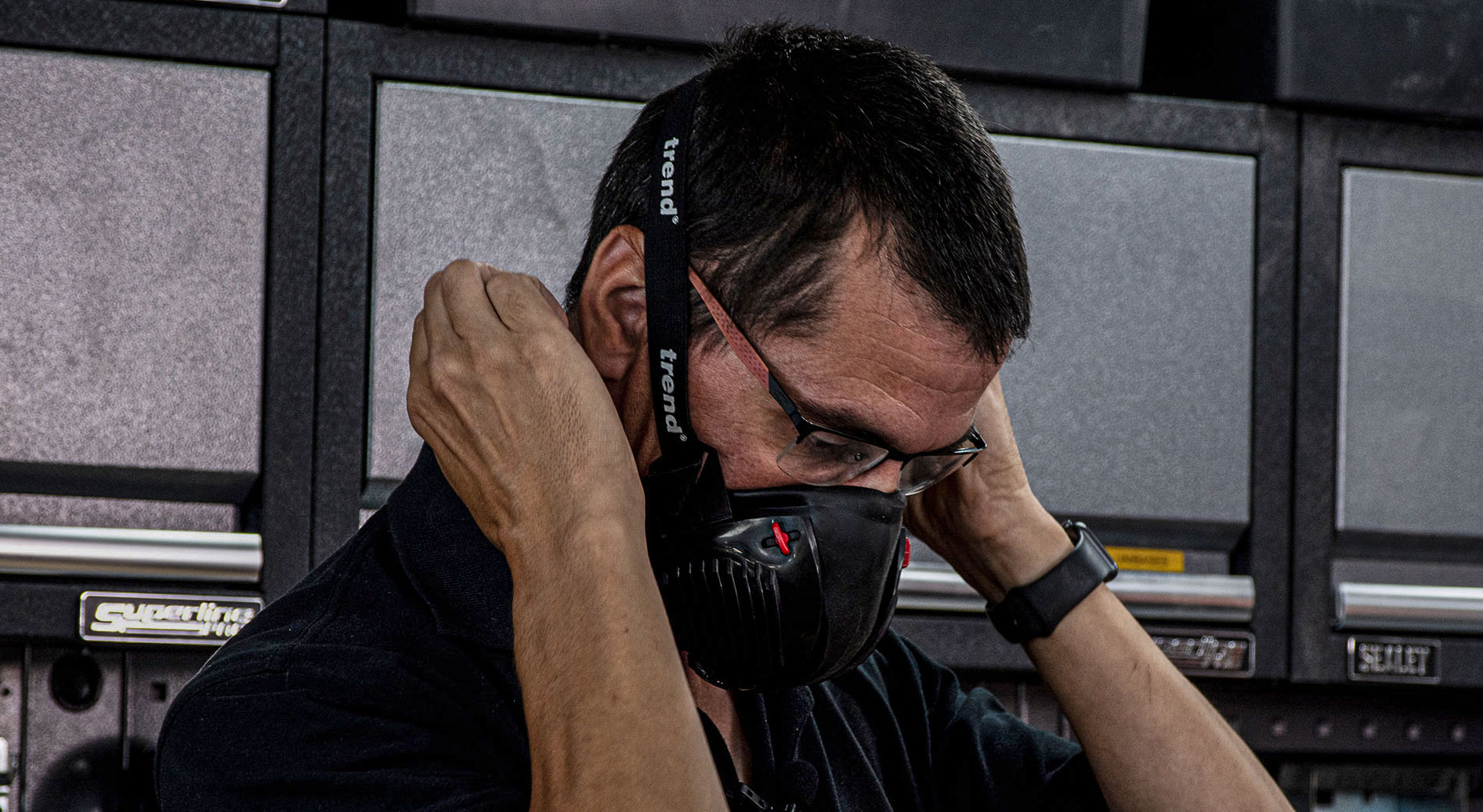 The Biscuit Jointer is heavy enough so it's secure, but is extremely portable so work at height can be achieved. The Slimline Sculpted Body Grip aids control and minimises fatigue and has left or right-hand accessible Top-Mounted Switch for easy operation. The Ergonomic Top Handle is for perfect balance and controlled cutting. The Anti-Slip Rubber Cutter Aperture prevents cutter slippage for accurate slotting.
Easy adjustment with Tilting Fence and Adjustable Cutter Height Fence setting for traditional jointing styles and bespoke constructions. Use quick set indexed positions for 0, 45 and 90-degree angles or the 6 preset cutting depths which cover 3 standard biscuit sizes 0, 10 and 20, plus specialist fittings. The T18S Biscuit Jointer is supplied with a CR/BJB100T Biscuit Jointer Blade, Attachment Plate, Dust Bag and Adaptor and Vacuum adaptor.
Some other features:
· Fast Release Base Plate – Quick-release hinges base plate for fast cutter changeovers.
· Multiple Jointing and Assembly Applications – Can be used for joinery and cabinetry work, alignment of components, strengthening and more.
· Simplex and Duplex Compatible – Extra plunge settings for specialist Duplex Hinges and Simplex Knock Down and Rigid Assembly fittings.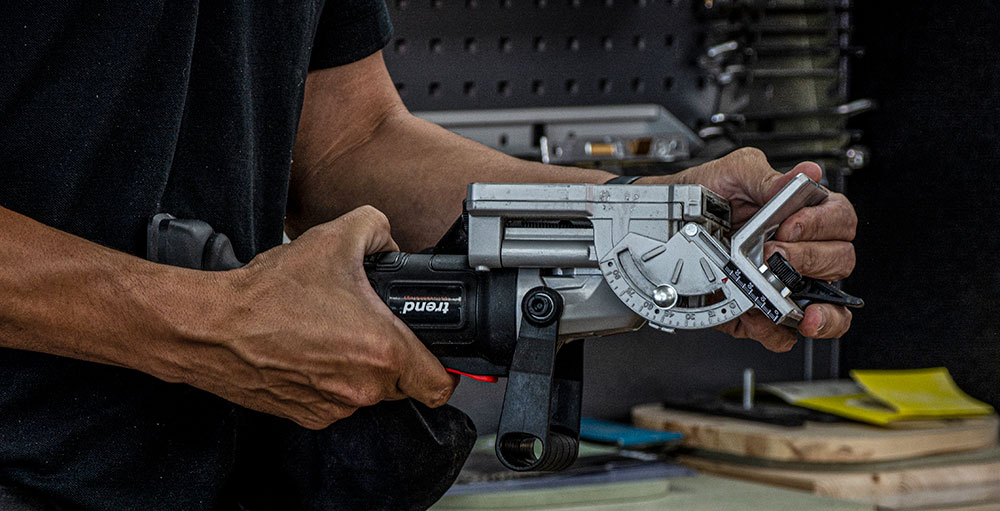 High-performance 18 Volt Lithium Ion Cells for superior run times and Compatible with all Trend 18V Lithium Ion Battery Tools. The T18S batteries have a vented case to keep the cells cool when charging or when in operation. The batteries are available in 2Ah, 4Ah & 5Ah.
Some other features:
6A Fast Charging - 2Ah: 30mins, 4Ah: 40mins, 5Ah: 75mins charge times.
LED Charge Indicator - 4 LED indicators for fast indication of charge remaining/stored.
Tough Outer Casing - Heavy-duty construction protects against damage.